Andy Aston's Salad of Broad Beans, Giant Cous Cous, Apricots Vegan Hard Cheese
Andy Aston's Salad of Broad Beans, Giant Cous Cous, Apricots Vegan Hard Cheese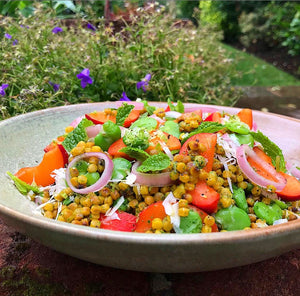 Make the most of the season's produce with a colourful salad, substantial enough for a main dish or perfect as a side.
Serves 6
Ingredients
Method
Remove broad beans from there pods, quite easy, you will find a point overhanging piece at one end of the pod, pull this down and pull open, the beans will fall out.
Bring a pan of water to a boil, add beans and cook for 2 minutes, drain and place in iced water. Remove the outer casing from the bean and place the broad beans onto kitchen towel.
Heat a little olive oil in a non stick pan, add the giant cous cous, stir until golden, takes about 2-3 minutes add a touch of turmeric, stir then add a little water and cook for about 6 minutes, adding the water just adds a bit of moisture, drain, run a small amount of water through the cous cous and leave to one side.
Bring a pan of salted water to a boil, add mint leaves, blanch for 10 seconds, remove the leaves and add to iced water, this stops them cooking further, drain the leaves and squeeze out excess water.
Place the leaves, garlic and olive oil into a blender and pulse till smooth, taste for seasoning before spooning into a storage bowl.
Pickled shallots
1 Banana shallots, peeled and sliced into rings
70ml water
Pinch sea salt
1 Bay leaf
2 Cardamom pods – Crushed
Method
Place all of the ingredients into a pan, bring to a fast boil, about 2 minutes, cool, add the shallot rings and leave for an hour for the salad, but longer if you want them for other dishes
Plating Up
Take a small amount of the broad beans, cous cous, apricots, vegan cheese, shallots and mint puree for garnishing later.
Place the remainder of the ingredients into a mixing bowl, add the mint puree, a touch of lime juice and zest, gently mix, season if needed.
Place the salad into a nice serving bowl and garnish with reserved ingredients; finish with more lime zest and a touch of extra olive oil
TIPS;
Use any vegetable trimmings for compost
We offer seasonal fruit and veg boxes for delivery in Kent for more seasonal produce