Oyster mushroom linguine with white truffle oil
Oyster mushroom linguine with white truffle oil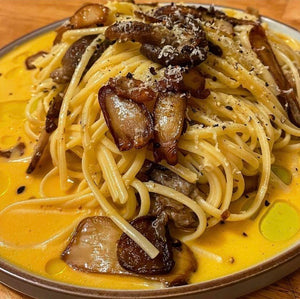 Pasta is featuring a lot on our lockdown menu and this oyster mushroom linguine is simple to make but made extra luxurious from the Clarence court yolks and drizzle of truffle oil!
Ingredients: (serves 2)
4 Clarence Court egg yolks (save the whites and make a pavlova!)
300g linguine
50g salted butter
400g Oyster mushrooms
White truffle oil
100g Ashmore cheddar cheese - finely grated 
Salt and pepper
50ml EV olive oil
Method:
Bring a large saucepan of water to the pile and add a generous pinch of salt for the pasta
In another pan melt the butter with a splash of olive oil over a med-high heat and when it is foaming add the mushrooms 
Add the linguine to the boiling water and cook as per the packet instructions
While the mushrooms and pasta are cooking whisk the egg yolks, add the cheese (reserve a little for scattering on top at the end) and olive oil and combine.
Drain the pasta, reserving a ladle of the cooking water and add back to the pan with the, then add the sauce and mushrooms and toss together, not on the heat or the eggs will scramble!
Serve on a flat based plate so the sauce forms a satisfying puddle
Drizzle with truffle oil, scatter with the remaining cheese and add lots of freshly cracked black pepper.