Leftovers Frittata
Leftovers Frittata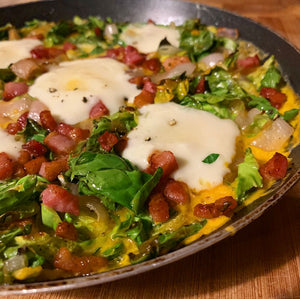 A delicious and healthy (ish) way to use up the odds and ends of veg, cheese and meat once the big day is over. The beauty of this dish is that you can just throw anything you've got in along with some eggs and lots of seasoning - a melting cheese topper is non-negotiable though!
 Ingredients:
6 Clarence Court Burford Brown eggs
Two large handfuls of brussel sprout tops
2 banana shallots thinly sliced
2 cloves of garlic, crushed
50g salted butter
6 slices of bacon cubed
1 Kentish Chaucer camembert 
Method:
Fry off the bacon cubes in small/medium sized frying pan until crisp and then transfer to plate with some kitchen roll on.
Melt the butter into the bacon juices then add the shallots and sweat, as they start to go translucent, add the garlic cook for a couple more minutes until it becomes fragrant.
Add the roughly chopped brussel sprout tops, give them a stir and then cover and let them steam for another couple of minutes.
Uncover, pour the egg in and around the veg, leave to cook for a couple of minutes scatter with the reserved bacon and top with chunky slices of Chaucer and put under a medium grill until the cheese starts to melt.