Kentish Cobnut loaf
Kentish Cobnut loaf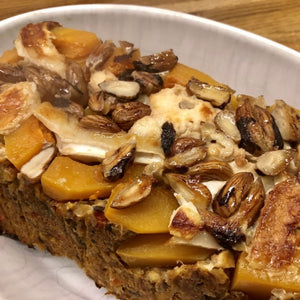 This hearty alternative to a meat roast is perfect for the family as the nights draw in and the temperature drops. Nut loaf works brilliantly with mash or roast potatoes; we have paired it with organic green beans grown in Orpington and veggie gravy but you can also enjoy it cold with mustard and pickles.
Ingredients
For the loaf:
Half an onion – chopped
2 cloves of garlic – chopped finely
Handful of mushrooms
1 red pepper
3 eggs
Cup of grated squash (you can use carrot if you don't have squash)
1tsp dried oregano
1tsp dried paprika
100grams red lentils
1tbs tomato puree
500mls veg stock
100 grams gluten free breadcrumbs
150 grams of Kentish cobnuts
75grams of grated cheese or crumbled goat's cheese
Chopped fresh chives
For the topping:
Slices of squash to decorate
Goat's cheese (sliced from the roll or crumbled) or grated veggie cheddar
Whole Kentish cobnuts
Method:
Find a medium sized loaf tin and line it with greaseproof or parchment paper.
In a frying pan, gently fry the chopped onion and garlic gloves, then stir in the chopped Kentish cobnuts, red peppers and mushrooms.  Add the herbs and paprika and gently fry for a couple of minutes.
Add your dried 100 grams of red lentils and the tomato puree, then add 500mls of veg stock and simmer for 30 minutes or until the liquid has been absorbed and the mixture is dry.
Once cooked, mix in your gluten free breadcrumbs and the Kentish cobnuts and 3 freshly beaten eggs, grated squash, the cheese, chives and season.
Take your loaf tin and place the sliced squash and rings of goats cheese (or grated veggie cheese) and whole kentish cobnuts in a decorative pattern (this will be the top of your loaf when it is turned out). After you have mixed together your 'loaf', pack it into your loaf tin, firm it down and then cover it and bake in a pre-heated oven at 160C(fan) or Gas mark 4 for half an hour.
After the loaf has cooled, turn it out onto a board, peel back the greaseproof paper and serve!