Guinea Fowl Supreme with creamed cabbage and roasted carrots
Guinea Fowl Supreme with creamed cabbage and roasted carrots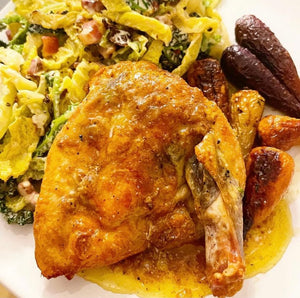 Guinea fowl is in season and we love it as a delicious and more succulent alternative to chicken. Plenty of meat on the bone and pairs perfectly with this season's root veg and savoy cabbage.
Ingredients:
x2 Guinea Fowl Supreme
75g salted butter
1 savoy cabbage, cored and finely sliced
6 slices of streaky bacon, chopped into cubes
150ml cream
400g mixed Chantennay carrots
Olive oil
Runny honey
Salt and Pepper 
Method:
Put the washed carrots into a roasting tin, season, drizzle with oil and toss to ensure they're coated evenly then put into a 180 degree oven for 10 mins
Heat a large frying pan (lidded) to a high heat with a splash of olive oil and brown the meat on both sides, then transfer to a baking tray and put in the oven for 12-16 minutes, along with the carrots (move them down a shelf if there's not enough room)
Fry up the bacon in the same pan you used for the Guinea Fowl until crisp, then add in the cabbage, reduce the heat and put the lid on to sweat, once cooked add the cream, stir and season
Remove the guinea fowl from the oven and leave to rest for a minumum of 10 minutes to ensure maximum succulence
Add the butter to the pan with the guinea fowl juices and combine to make a sauce.
After 20 minutes, add some honey to the carrots and leave to roast for another 3 mins, you just want it to melt, not burn.
Put the Guinea fowl on your plate or platter then spoon over the buttery sauce and serve with the carrots and cabbage.