Emily Scott's Dippy Eggs Royale
Emily Scott's Dippy Eggs Royale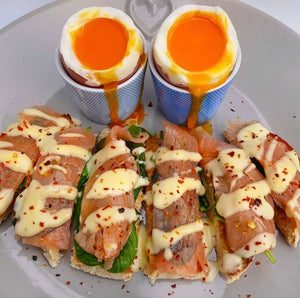 Emily creates a whole host of delicious breakfast recipes over on her Instagram @whatiateforbreakfast << give her a follow and prepare to be inspired!
A different twist on the classic Eggs Royale, I came up with the idea to swap the poached eggs for soft boiled eggs to make Dippy Eggs Royale! I sliced the toasted muffin into soldiers, which were topped with baby spinach, smoked salmon and drizzled with hollandaise sauce 🤤. So delicious and perfect for dipping into the yolks! 
My recipe below serves one so double up on the ingredients if there's more than one of you - this box serves up to 4!

Ingredients:
Watts Farms Eggs Royale breakfast box
Method:
🥚 Slice an English muffin in half, toast, then cut into soldiers.
🥚 Top the soldiers with 50g wilted baby spinach & 50g sliced smoked salmon.
🥚 Heat 60g hollandaise sauce in a saucepan for 3-4 mins or until warmed through, stirring occasionally.
🥚 Drizzle the hollandaise over the soldiers.
🥚 Meanwhile, bring a saucepan of water to the boil and add your egg/s. Boil for exactly 6 minutes (for large eggs straight from the fridge) or 5 minutes (for medium or room temperature eggs).
🥚 Serve & get dipping 🤤.