Cod fillets with a lemon & herb crust
Cod fillets with a lemon & herb crust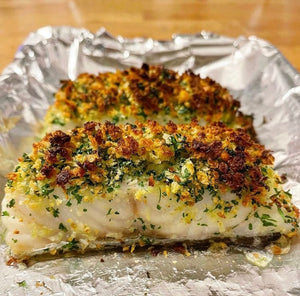 A light and zingy fish dish which is super simple to rustle up for a midweek meal. We served ours with creamed chard and new season Jersey Royal potatoes
2 tablespoons olive oil
2 fillets of cod
75g fresh breadcrumbs (we blitzed up a couple of slices of sourdough) 
Finely grated zest and juice of 1 lemon
50g butter, melted
1 tbsp chives, chopped
½ tbsp parsley, finely chopped
Method:
Heat the oven to 180°C
Lightly oil a roasting tin and lay the cod fillets in it in a single layer. Season them with salt and freshly ground black pepper.
Mix all of the other ingredients together in a bowl and season, then divide between the fillets, patting on gently.
Cook in the oven for 14-15 minutes. Serve immediately.