Charred Brussels Sprouts with Spicy Chilli Flakes
Charred Brussels Sprouts with Spicy Chilli Flakes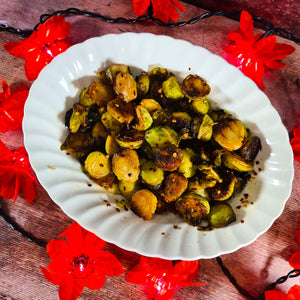 Feeling spicy with these charred Brussels Sprouts, topped with generous servings of Chilli Flakes! Who knew sprouts could be so versatile? 🎄
You can shop the ingredients here!
Ingredients;
Method;
Boil the Brussels Sprouts in salted water for 5 minutes, then drain and when cool cut in half
Peel and bash the garlic cloves
Heat the olive oil in the frying pan, and cook the garlic over a low heat until lightly golden
Remove the garlic then add the chilli flakes. Place the sprouts in the pan to fry flat-face down with plenty of salt
Cook for 15 minutes until the face is charred
Serve and enjoy!