Watts Weekly 17/08
Watts Weekly 17/08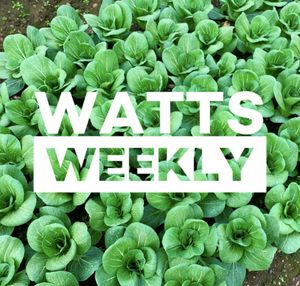 Today we had ITV and the BBC here at the farm doing an interview with our MD Ed, on the Home Delivery service and how it's run since lockdown. We put out a call to our Facebook followers to be interviewed as a customer testimonial and we were honestly blown away with all the lovely comments and offers we received. Don't forget to catch us tonight on ITV Meridien at 6pm!
Apple season is a-go and we have just started stocking Discovery Apples which are one of the most popular English early apples and they can have a hint of strawberry flavour. On the more sour side of the flavour spectrum are our Kentish Bramley apples, we sell them by the kilo and are perfect for baking and making sauces with whilst the Discovery are great on their own.
 Our new arrivals this week are going to thrill the carnivores amongst you all! Not only have we added a delicious honey-roast ham joint to our meat selection, it's joined by some new cuts of steak and a wide range of locally made sausages, including some gluten-free ones - they're on 3 for £10 as well so you can mix and match. Last but not least we've got some great weekly offers for you, including a minted whole leg of lamb reduced from £37.50 to £27.50 - perfect for roasting or on the BBQ.
Watts Farm is a local online farm shop in Kent. Contact us today.