Watts Weekly 10/08
Watts Weekly 10/08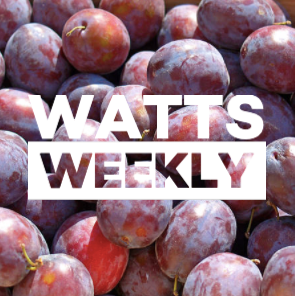 The past week has been an absolute scorcher and while we've been feasting on BBQ food and trying to stay cool, we've been ensuring our crops have been hydrated around the clock too! 24-hour watering is the order of the day until the weather breaks later this week and we let the rain take over!
This week brings the return of Kentish Victoria plums which we've included in our weekly offers - perfect for baking, compote or jam-making (probably not advisable in the current temperatures though!). Bramley apple season has arrived too and we've got some beauties now in stock on our site, also grown here in Kent.
Great news for those of you who are on a gluten-free diet too - we are always updating our product lines with you in mind and we've added a selection of GF cake and cookie mixes. We're also expanding our organic range and new in this week is spinach and also green beans - our MD Ed had them for supper last night and he gave them a resounding thumbs up.
Wishing you all a great week, Team Watts. Stay tuned with our weekly offers on our farm food delivery products.