Introducing James Crank - Head Chef at the Old Kent Barn
Introducing James Crank - Head Chef at the Old Kent Barn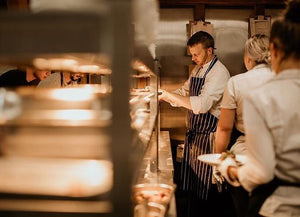 We are very excited to introduce you to another one of our fabulous chefs, meet James Crank, Head Chef at the incredibly beautiful Old Kent Barn in Dover.
James has been a long-standing customer of ours, having supplied him for the past seven years he is such a character and always a favorite with our sales team!
Look out for his wonderful recipes, including some classic date night ideas and dreamy dauphinois potatoes! Have a read below to learn more about the award winning venue, The Old Kent Barn!
About The Old Kent Barn
The Old Kent Barn is a family owned and run, award winning venue, priding themselves on the quality and warmth of the service offered, with a fantastic team all working tirelessly to ensure your wedding is perfect in every way for you, your family and your guests.

Set in an idyllic rural location, there are 2 barns on site; a purpose-built 110ft oak framed barn for indoor weddings and receptions and the original 'Old' barn for accommodation which was built over 225 years ago. The barns are set in manicured landscaped grounds and surrounded by picturesque Kent countryside making it the perfect backdrop.

The 2 ½ acre gardens, with formal parterres, are planted with romantic roses, sweeping curved hedges and an informal lake garden with a lit fountain all set against a backdrop of mature trees. Dedicated gardeners are here on a daily basis.

The paved seating area for outdoor ceremonies has a rose and wisteria covered aisle along with a canopy to shelter up to 150 guests. Both indoor and outdoor ceremony areas have a high quality sound system so all your guests can hear the ceremony clearly.

Atmospheric up-lights and fairy lights have been placed throughout the grounds, so guests can enjoy their surroundings in the evening.
https://www.theoldkentbarn.co.uk/