Introducing Jack O'Donovan - Hospitality & Client Dining Head Chef at Nomura
Introducing Jack O'Donovan - Hospitality & Client Dining Head Chef at Nomura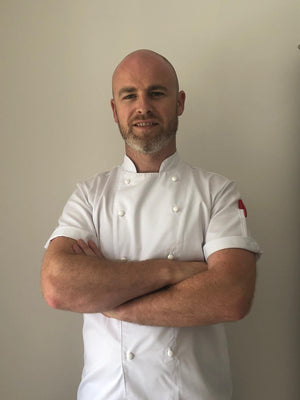 We'd love for you to meet one of our lovely chefs, Jack, who even in this lock-down has not lost his passion for cooking! For the past year we have worked with Jack supplying Nomura, and since turning to Home Deliveries Jack will be supplying us with lots of fantastic recipes to get you all inspired to cook some amazing foods at home!
Keep an eye out over the coming week for some of Jack's incredible recipes, we can't wait to make them ourselves!!
"I have been a Chef for 13 years now, my journey began in my home town in the South west of Ireland, this is where I first discovered my passion for cooking, as soon as I stepped foot inside the kitchen that was it, I was hooked!
At the young age of 19 I traveled to Australia and New Zealand in pursuit of a new culinary adventure (along with some of the usual backpacker antics). I spent 3 years on this side of the world working in high end restaurants, learned many new techniques, met some amazing people and discovered a completely new style of cooking which will stay with me forever.
Eventually I decided to come back to London and my first introduction to a busy London restaurant was in Mayfair. After a relatively long stint of 80 hour weeks I decided to move to the world of corporate catering in search of a better work life balance to spend more time with friends and family.
I have worked in some of the largest contracts in the city of London over the last 7 years and met some amazing Chefs who have helped me to become the Chef I am today. I take pride in using locally sourced seasonal ingredients to create my menus, there's so much fantastic produce on my door step, I am spoiled for choice. I love all types of cuisine but lately as the weather has been so nice I am loving having the BBQ on the go!" - Jack O'Donovan