Hofmeister - Get to know our suppliers!
Hofmeister - Get to know our suppliers!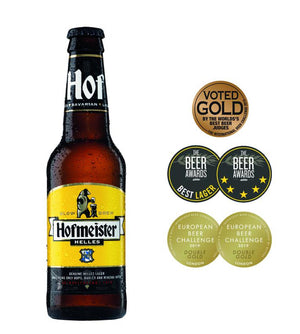 We're happy to announce we can now offer Hofmeister Helles in 12 packs, and if you haven't tried already they're available to buy as individual bottles too! Click here to add to your next order, our first 40 sales will be sent a complimentary Hofmeister Bar Blade!
Hofmeister Brewing Company makes authentic imported Bavarian lager that's been named as the world's best by the IWSC. For those who might remember the name, today the beer is a far cry from its previous incarnation back in the 90's. Following a relaunch in 2017 by two beer enthusiasts, the now independently owned Hofmeister Brewing Company produces genuine Helles lager in the heart of Bavaria at a 4th generation family brewery.
Hofmeister Helles is a fresh, crisp lager made according to the ancient 1516 Reinheitsgebot Beer Purity Law and uses only three ingredients - natural mineral water, locally grown barley and Hallertau hops. Recognised internationally for its excellence, Hofmeister was crowned 'World's Best Lager' at the last IWSC Beer Awards. It's also winner of multiple awards including Double Gold at the European Beer Challenge and Gold at the International Beer Challenge.