Watts Weekly - 13/07
Watts Weekly - 13/07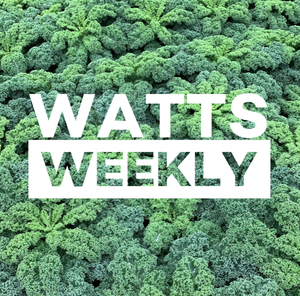 We hope you all had a lovely weekend whatever you may have been doing!
We're now one week into restaurants and hotels re-opening and it's been lovely to speak with all of our chefs again! But don't worry we've had so much fun with our Home Deliveries we will definitely be continuing the service, and updating with new and exciting products as much as we can! It's been lovely to see so many amazing reviews on our Trust Pilot, and we're so grateful to all of those who have continually supported us!
As I'm sure you know, we're all about family here at Watts and this week we've been focusing on the family shopping needs with our new additions! We've added some tasty new pressed fruit drinks from Cawston Press, with kids drinks available in Summer Berries & Apple and Pear & Apple, not only do they taste great but they have the extra bonus of no added sugar - what's not to love?!
And we haven't forgotten that all children love a tasty sweet treat! So we have also added the Viva flavoured milk range in Chocolate, Banana and Strawberry. All available in handy packed lunch sized cartons, perfect for picnics or as a school treat!
From the farm this week, our Kale is in full swing and now available in pre-prepared sliced bags! Simply wash and use, it's that easy! We've even gone and added a simple but tasty Kale Crisps recipe to our Recipes page to give you some inspiration, including some very appetising new snack recipes using fruit & veg!
In other news, we're very excited about our new Les Brichoes Croissants and Pain au Chocolat! Perfect as an on the go snack or warmed through for a tasty breakfast treat!
Have a great week!
Team Watts