Interview with Chef Kenneth Tyrrell at Burger & Lobster
Interview with Chef Kenneth Tyrrell at Burger & Lobster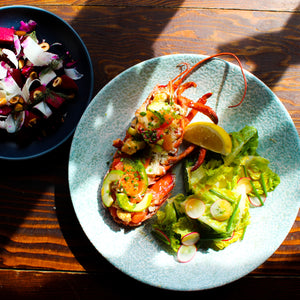 We had the fantastic opportunity to visit Burger & Lobster in West India Quay and to meet chef Kenneth Tyrrell. We wanted to find out what he's been cooking using our Watts Farms produce! Kenneth cooked us a beautiful beetroot and kohlrabi salad and a gorgeous lobster salad, the pictures really speak for themselves. We then sat down to ask this marvellous chef some questions...
Tell us a bit about yourself. How long have you been a chef at Burger & Lobster?
My name is Kenneth Tyrrell. I've been working in Burger & Lobster for 9 years now, starting their second restaurant in SOHO Dean St - one of our most iconic restaurants. I shortly became head chef in their first restaurant in Mayfair and went on from there, working and opening some of our restaurants all over the world and in the UK!
I worked in Ireland most of my life, applying my trade in some of Ireland's most distinguished restaurants, and settling for a large part of it in the very South. I then met my wife and decided to take the plunge and move to London, where I started at Burger & Lobster.
Can you tell us a bit about Burger & Lobster?
Burger & Lobster opened it first restaurant in 2011 in Mayfair in a small Irish pub, squeezing in a kitchen, and serving fresh Canadian lobster delivered live to our door every day. Not to mention making one of the best burgers in London (in my opinion) with some of the finest US beef. And a late add on, but no means the last, our very Iconic lobster roll - now a London staple.
Burger & Lobster started with no menu, no prices, and only three Lobster products. Even though we now have a menu, we no longer have three things on the menu, and prices are now spread across the board to accommodate everyone. The quality and the emphasis on fresh and live produce is paramount and always part of our mission.
Burger & Lobster has come a long way from a small restaurant in Mayfair, to being in some of the biggest cities in world (New York and Singapore to name a few), and are always striving to push the boundaries and serve the best and freshest food possible.
It was originally a concept of three crazy Russian school friends over a drink in a bar in Mayfair, and it grew legs and prospered from there!
What are some of your favourite things about working at Burger & Lobster and working with fresh produce?
The quality of the produce. I get to work with some amazing suppliers and producers. But best of all is our team who have always been a pleasure to work with, and from our owners to our kitchen porter, when you work at Burger & Lobster, we always try to make everyone feel like one of the family.
Will you walk us through the dishes you've made for us today?
The kohlrabi and beetroot dish is a combination of crunchy, sharp, sweet, and creamy. An odd summer dish, but all in season at end of summer. It's a dish that all of our staff really love. It's a few very simple, modest ingredients. The ricotta salat is a must try for anyone - a real surprise to us and our chefs as it has a very clean flavour, that marries very well with sharp, marinated beetroot and crunchy kohlrabi. Best way to have a little of everything, all together in one mouthful, and savour the mixture of flavour and texture.
The Lobster salad is a very simple dish, also with some very hard hitting and punchy flavours. The salad components are fresh and light in texture to keep the lobster at the for front of the dish, but it is all tied together with Yuzu and Lobster vinaigrette, creating a harmony between the indulgent Lobster meat and the crunchy light salad. But put simply, it's summer on plants with some of the best lobster the sea has to offer, with a zingy dressing!
One thing is for sure, we can't wait to go back and visit! You can find Burger & Lobster locations here and find our more information here.