NHS Thankyou
NHS Thankyou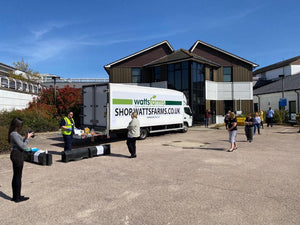 In April & May we loaded 3 lorries full of fresh and essentially products and drove them to our local NHS trust sites (with their permission).
This was our way of directly thanking them for the excellent and heroic work they have been doing.  We made sure we were keeping our 2m separation, especially when the staff from the COVID ward came down to collect.
The staff were extremely grateful and touched that we did this.  Some of the doctors and nurses told us that they can now tuck their children up in bed and read them a story instead of queuing up for food at the shops before they got home.  This really made us feel like we made a real difference that day and played our part in this pandemic.