International Women's Day and an interview with our female Co-Founder, Avril
International Women's Day and an interview with our female Co-Founder, Avril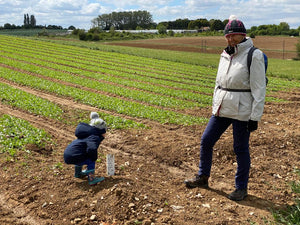 With 111 women working across our teams, at every level, as well female founder, women could not be more integral to Watts Farms, in fact without them, there would be no business!
We chatted with Avril, our Co-Founder and Mother to our MD Ed, this International Women's Day about how she grew the business to what it is today.
Early years
When Avril was just 6 months old, just after WW1, her Father took a holding with Kent County Council. At the time they were giving holdings as a priority to soldiers, but there weren't enough soldiers who wanted them and so the family business was born. When she was 22, Avril's Father sadly passed away.
"I'd been running the farm anyway and working it. I was the boy he never had, there were three of us, all girls. When I was born I wasn't allowed to be a girl really, but I loved it. Driving the tractors and everything. It was a little at detriment to my school work though, because if it was potato harvesting season I'd be off sick from school on those days"
Taking on the farm
After her Father's passing she had to apply to the council to officially take over the farm, despite running it for years already she was met with resistance:
"I had to go before a committee of very old men, who told me that I might have a baby one day and I wouldn't be able to lift 100kg sacks of potatoes, so I asked them "had they ever heard of birth control, and of employing people to do the heavy work?". I think this shut them up. I became the first, and I believe the last, Life Woman tenant of Kent County Council.
My father had been a committee member of the national farmers union, and that gets passed to your nearest sibling if you were a committee member, so I went along to the NFU meetings, and being the only woman, as well as being quite young, this caused quite a stir. During one meeting, we had a man come to talk to us all about selling stuff, and how we could sell our crops, and that man is now my husband, Michael Gray. He was a very flash salesman, and I went up to him at the end of the talk and said "well if you're really that good, you can come and sell my produce for me" and that is how our relationship started.
He started selling produce form the farm and asking me to row certain things from the farm, eventually our relationship grew and he quit his job in London, moved in and became full time on the farm"
Avril and Mike went on to have a baby, our MD, Ed:
"I had a caesarean, on Christmas Day, I'd been plucking turkeys up until Christmas Eve, and when we went to the hospital I literally had my wellies and overalls on. My waters broke and I thought oh my god"
After taking just two days maternity leave she took on a lady who worked on the farm, Joan as a nanny. She had fostered 80 children in her life and was a wonderful woman, helping Avril and Mike to raise Ed and allowing them to carry on growing the business we have today. That's not to say Ed wasn't involved from an early age though!
"When Ed was born, I used to strap in his baby seat on the tractor, and he's be there behind me out in the fresh air all day whilst I cultivated a field, he loved it. I used to put him in the pram and take him up the pack-house, and he'd just sit alongside me. As a little boy of about 5 he was there helping us washing the salad onions on the conveyor belt. Definitely not things you'd be able to do now"
Growing the business:
A company called McCloud and McCloon came along and asked if they could supply spinach, for Asda supermarket, so by hand, Avril and a team 18 ladies would bag spinach on the nightshift in the empty sheds on the farms.
"Of course then machinery came in, that could do 40 bags per minute, where myself and the ladies were only capable of 40 bags per minute in our dreams!"
Mike then started the catering business, going around restaurants and just asking them if they would be interested in local fresh produce - a key part of the business, which has flourished - today we supply over 200 with Mike still playing a key role in the business.
It hasn't all been plain sailing though:
"During the first recession I even took on a cleaning job on top of the farm to pay for Ed's school fees, we sold arctic lorries, and we were really in dire straights. It's just one of those things, but we really know what hard work is and we pulled through"
Only last year the business was in jeopardy when the pandemic closed all of the businesses we supply to and offered absolutely no financial support to wholesalers. But Ed was determined not to let us 'fall through the cracks' like so many others did, and virtually overnight pivoted the business from B2B to B2C, and Avril has nothing but the greatest admiration for this:
"It really takes guts to start a business, and it takes guts to carry on as Ed is now. When the pandemic hit, we could have folded quite easily, but I really do admire him for all the different ways he's managed to keep everything going."
Advice for women wanting to go into business
"Be prepared to do hard work, and always believe that you can do it. That's the most important thing."
"Put the hours in, you can't run a business unless you are willing to work 17 hours day. You have to eat, live and sleep it, it has to be your passion and life. You know, it is all you talk about and all you do, and having a good partner in life helps with that, having someone who has that same passion. And not just having a partner, but a good friend, I must say, having Mike all through this, he has been incredible, and having someone with that same vision really does help"
"Employing good people, you can employ hundreds of people but you employ that one good person they're worth five people. Good, loyal staff who have that same attitude to achieve the companies goals."
"I think as an employer, you've got to reward good workers and good people, I know it's a different world now, and there have been some tough times with this pandemic and there will be more to come, but in  life you will get really good workers, and those are people that you can trust and you know that they are going to represent and have the same vision."
"It's important to listen to your staff as well, and have empathy."
Thank you so much to Avril for taking the time for talking us through her journey.
Thank you to all the women who work for us, buy from us and support us.
"Here's to all the strong women, may we know them, may we be them, may we raise them" Today is about you 💚