Delivery Update - Watts are going National!!
Delivery Update - Watts are going National!!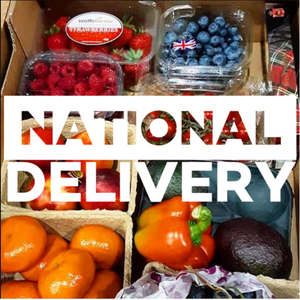 We're very excited to announce we are now listing our service Nationally, we've had such fantastic feedback from our lovely customers on Trust Pilot and have been working hard to improve our website, with so many new products and features!
Of course with this update there comes a few changes and questions, but hopefully we can answer those for you now!
Which area's do you cover under local delivery?
Our local areas have remained the same, and you still order via the 'Local Delivery' option. The green area is what we cover within this catchment, and orange we can also offer PM and Sunday deliveries.
            2. How do I order if I live outside of the Local Area?
It's easy! Simply add your items to your basket and select 'shipping' at the check out, you will then be asked to select a delivery date and then enter your shipping address on the check out page.
There are some areas we still aren't able to reach just yet, our shipping currently excludes; Ireland, Channel Islands, Isle of Man, Isle of Wight and Scotland - Excludes off shore. But we're hoping to be able to deliver here soon!
           3. How much is the delivery charge for National Shipping?
Our shipping cost is £7.50 standard
           4. How will my produce be delivered?
We've worked very hard on this to ensure your goods arrive in perfect condition, using a mix of wool cool and ice packs inside sealed boxes. This keeps everything within the optimum temperature for the duration of the journey.
           5. What if I'm not at home when you deliver?
Not a problem! We have a space for you to leave delivery instructions to leave your goods in a safe place, and the wool cool and ice packs will keep your produce cool and fresh!
We can't wait to introduce you to the Watts Family, to learn more about us and our heritage, head over to our About Us page, and don't forget to follow us on Facebook and Instagram and let us know Watts in your kitchen by tagging us in your lovely recipes and delivery photos!